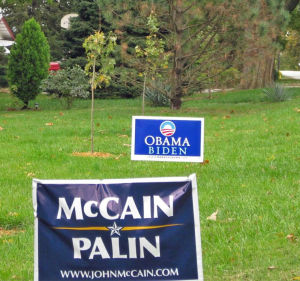 HILLSBORO • A Jefferson County judge on Thursday ruled that a Pevely homeowners' association violated a resident's right to free speech by banning him from placing a political sign in his yard.
Jim Lamprecht lives in the Tiara at the Abbey neighborhood. On April 2, 2011, he put a sign in his yard showing his support for Glenn "Ed" Ziegelmeyer, a candidate for the city's Board of Aldermen, according to the suit. A couple of days later, a trustee of the homeowners' association called and told him he was violating the rules, known as covenants, against most signs.
Lamprecht filed suit against the Tiara at the Abbey Homeowners Association in March 2012 and was represented by the American Civil Liberties Union of Missouri Foundation.
Jefferson County Circuit Judge Gary Kramer ruled Thursday in Lamprecht's favor.
"The right of free speech under our constitution is not only secure from interference by governmental or public bodies, but under certain circumstances from interference by private actors as well," Kramer wrote.
Kramer also awarded $1 to Lamprecht.
"Homeowners are frequently stunned to be told that they cannot engage in such a basic right of free speech as putting a political sign on their own property because of a covenant," Tony Rothert, legal director of the ACLU-MO, said in a prepared statement.
"Associations of homeowners across the state are now on notice that enforcing such a ban violates the Missouri Constitution."
A phone call to the law office of Dennis Tesreau, who represented the homeowners' association, was not immediately returned.